S ince 1996, we have proudly served the communities of Fort Lawn, Great Falls, and all of Lancaster County. As we grow a healthier community, together, the Arras Foundation is committed to supporting educators and their work to create innovative learning opportunities for students. We want all students to thrive and reach their full potential.
The Horizon Education Grant promotes collaboration between educators, parents and students in shared projects and activities. Educators have the option to apply for two Horizon Education grants during the school year, one $500 grant and one multi-educator grant up to $2,000.
The Youth Committee is the body responsible for reviewing and approving all grant applications. This is an opportunity for students to get involved in community activity, explore the world of philanthropy, and aid in innovation within the school system. Students from the University of South Carolina Lancaster (USCL), Andrew Jackson, Buford, Indian Land, Lancaster County, Great Falls, and Lewisville High Schools make up the Horizon Education Grant Youth Committee.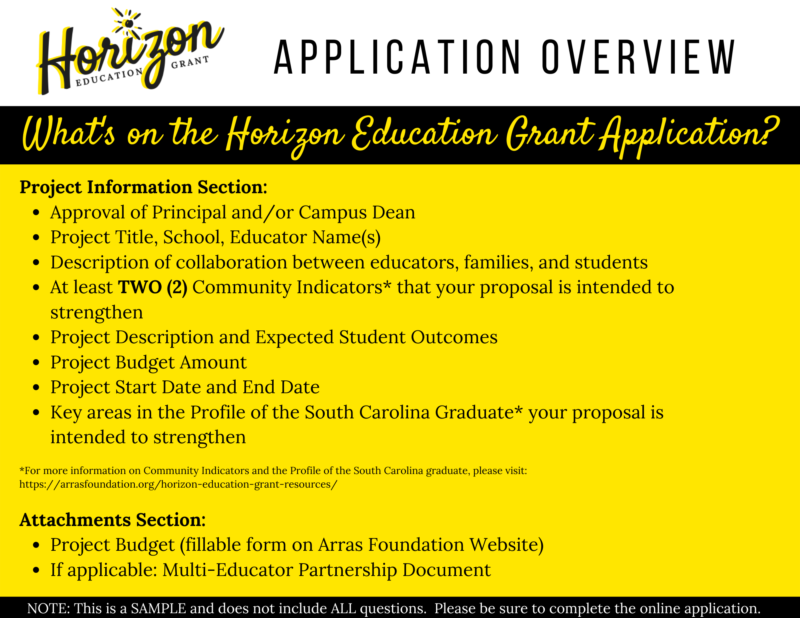 Potential grantseekers are requested to complete the following application steps:
Step 4
Seek school leadership approval for proposal.
Step 5
Collaborate with a student or parent on your ideas or classroom needs.
For teachers at the elementary level (4K through 5th grade), collaboration with at least one parent; for teachers at the middle, high and post-secondary level, collaboration with at least one student.
Step 6
Complete an application.
Horizon Education applications are now being accepted. Click here to apply!
Horizon Education Grant Resources
Click here to access Horizon Education Grant application templates and resources.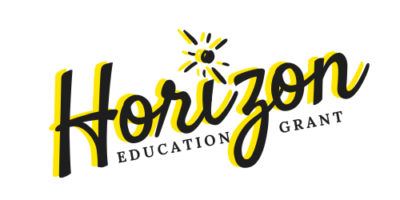 Please submit applications for the Spring Review Cycle before 11:59pm on Wednesday, March 1, 2023. If you have any questions, please contact Elizabeth Howe (EHowe@arrasfoundation.org).
Horizon Education Grant Youth Committee
Throughout each grant cycle, our dedicated Youth Committee reviews all Horizon Education grant applications. Our Youth Committee members are selected by their respective schools to represent six area high schools and the University of South Carolina. This group makes final funding decisions with guidance from Foundation Trustees and Staff. On a monthly basis, this group will be exposed to professional and leadership development opportunities in addition to practice with grantmaking. If you know of a student who would be interested in this opportunity, contact Elizabeth Howe (EHowe@arrasfoundation.org) and let your school know! 
 Check out how Van Wyck Elementary School utilized the Horizon Education Grant!
| School | Project | Educator(s) |
| --- | --- | --- |
| Brooklyn Springs Elementary | Dealing Success | Marni Peavy, Monica Baskin, Jane Poovey, Andrea Hudson |
| Brooklyn Springs Elementary | Lights, Camera, Action! | Shelby Schwartz, Brittany McManus |
| Buford High School | The Dream to STEAM | Gayle Posipanko, Phillip Fleming, Sydney Bucca, Juline Wieland |
| Great Falls High School | All Kids Active | Josh Heffner, Garrett Knight |
| Heath Springs Elementary | Makerspace for STEAM Future | Kristy Horton, Megan Hanna |
| Indian Land Elementary School | Marble Run Fun | Elizabeth Massie, Janet Vecchio |
| Indian Land Middle School | Working Without Walls: An Open Air Classroom | Teresa Petty, Nancy Gearhart, Phedrian Alexander, Kelly Ewing |
| Lancaster High School | Goodbye Language Barriers | Ingrid Corpuz, Eric Byrd, Sara Jordan, Sharon Johnson |
| Lewisville Middle School | Be the Best You | Heather Hillis, Alma Wilson |
| Lewisville High School | Safe Training | Rusty Pemberton |
| Lewisville High School | The Weight Room | Rusty Pemberton, Will Mitchell, Whitney Eubanks, Blake Barron |
| Lewisville High School | Seeing Myself in Books | Lynn Kelley |
| Lewisville Middle School | Be the Best You | Heather Hillis, Alma Wilson |
| Lewisville Middle School | Yuki Ball | Whitney Eubanks |
| North Elementary School | Exploring Groundwater Hydrology & Macro Invertebrates | Stephanie Golaski |
| USC Lancaster | Lancer Ambassadors | Karlee Christian, Haley Sims, Jennifer Blackmon, Justin Pearson |
| School | Project | Educator(s) |
| --- | --- | --- |
| Andrew Jackson Middle School | Welcome to Vol-Ville | Susan Hammond, Michelle Perkins, LaShae Wallace |
| Educational Foundation of USC Lancaster | CLEVER – Campaign Literacy Educates Voters to Encourage Responsibility | Steven Campbell, Danelle Faulkenberry, Brandon Newton, Ryleigh Waiters |
| Great Falls High School | Project AKA – All Kids Active | Josh Heffner, Garrett Knight |
| Great Falls High School, Lewisville High School | The Next Steps with Holly Hayes: Empowering Students to Move Ahead After an Unusual Senior Year | Antonio Artis, Abby Brunson, Robbie Yarbrough |
| North Elementary | Learning Power ON-THE-GO | Marian Berks, Anna Evers, Katherine Hopper, Rebekah White |
| North Elementary | Powerful Connections | Deborah Cole, Ingrid Corpuz, Rebecca Hammond, Bailey Threatt |
| USC Lancaster | Finance Bootcamp | Albert Blackmon, Phillip Parket, Stan Emmanuel, Mike Sherrill |
| Van Wyck Elementary | Growing Our Leveled Library: Expansion and Home Connection | Samantha Rigby |
School
Project
Educator(s)
Andrew Jackson High School
Composers Unite
Lizzi Elliott, Katy Richert, Shannon Bradberry
Andrew Jackson High School
Lifting for a Lifetime
Brenton Walters, Tyler Bradley, Scotty Phillips, TJ Armburst
Andrew Jackson High School
State Exam Test Preparation
Josianne Campbell
AR Rucker Middle School
Math Interactive Notebooks…..Digitalized!
Casie Cate
Buford Elementary
ABii
Andrea Ribelin, Trena Thompson, Betsy Vick, Patrick Marsall
Buford Middle School
3, 2, 1…Reporting from the BMS Hive
Ann Tillman, Kelly Cauthen, Karen Dingler, Denay Gossman
Heath Springs Elementary School
Thriving Not Striving
Kendall Blackmon, Anna Taylor, Michelle Mothershed, Mandy Allen
Indian Land Middle School
Figure It Out
Teresa Petty, Curwood Dillingham, Nancy Gearhart, Susan Lloyd
Lewisville High School
DNA: The Real Deal
Amanda Freeman, James Salters, Johnnie Catoe
Lewisville High School
The Closet
Jessica Chastain, Reagan Love
Lewisville High School
Art Journaling- Enjoying the Process of
Creativity with Motivational Words
Merideth Hill
Lewisville High School
Halftime Weight Room
Rusty Pemberton, Josh Beckham, Will Mitchell, Whitney Eubanks
Lewisville High School
Professional Camera Movement
Pete Stone, Audry Allaman, Katharine Stone, Carol Rachels
North Elementary School
Language Beyond Today
Ingrid Corpuz, Erin Kirkley, David Warren, Mariam Berks, MaryBeth Williamson, Jane Hudson
North Elementary School
Reading with the Senses
Deborah Cole, Tessa Cox, Anna Baker, Rebecca Hammond
Southside Early Childhood Center
Developing the STEAM Way!
JoAn Willis, Meredith Broome (4k), Riketa Williams (Early Head Start)
USC Lancaster
College Mentorship Day
Kristen Hammond, CoSonja Allen, Angela Blakeney, Ernesta Adams, Elaine Connor
USC Lancaster
Study Abroad to Eastern Europe –
Budapest, Hungary; Prague, Czech Republic; Krakow, Poland; and Vienna, Austria
Susan Cruise, Angela Neal, Shana Dry, Antonio Mackey, Nathan Mellichamp
USC Lancaster/Indian Land High School
The Chemistry STEAM Team
Bettie Obi Johnson & Jill Castiglia (USCL),  Salwa Ghaly & Ellen Lonon (ILHS)
Van Wyck Elementary School
Books for Bilinguals
April Davis
Van Wyck Elementary School
Nature Trail and Outdoor Classroom
Amanda Alter, Kristy Bartlett, Jena Dean, Maggie Wilson
Van Wyck Elementary School
Readers Become Leaders
Samantha Rigby
Van Wyck Elementary School
STEAM Care
Amy Wamsley
Van Wyck Elementary School
Tactile Learners
Patti Hyder

V