LANCASTER — The city of Lancaster officially welcomed its newest public park with a ribbon-cutting ceremony Friday, Aug. 18.
Mural Court, located on Dunlap Street across from the Historic Lancaster County Courthouse, provides a new space for residents to gather, enjoy local art and spend time together downtown.
The park was created through a partnership between the Lancaster County Council of the Arts (LCCA), the city of Lancaster and the Arras Foundation.
"This park provides another enhancement to our city's rich cultural infrastructure," said Mayor Alston DeVenny during opening remarks. "It is a great example of what we can offer the community through public-private partnerships."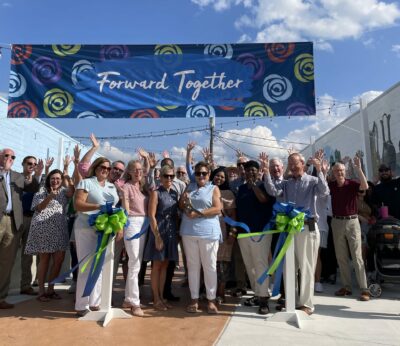 Residents and staff from the Lancaster County Council of the Arts, city of Lancaster and the Arras Foundation celebrate the official opening of Mural Court on Aug. 18.
The new park transforms a "missing tooth" lot that was left empty by a 2008 fire. The arts council initially began painting murals on the empty walls with help from a city façade grant in 2019. Over 100 residents came together to help create the art spanning the walls of Mural Court.
That same year, the Arras Foundation collected almost 2,000 pieces of community input data, hearing from residents their wishes for downtown. Common feedback from these sessions included the desire for more focus on arts and history, family-friendly gathering spaces, better curb appeal, and the addition of flowers and green space, among others.
Mural Court provides all of these. Amenities such as these continue to make Lancaster a more attractive option for businesses and economic growth, as John McCain, president of the Lancaster County Chamber of Commerce, noted at the ribbon-cutting.
"This park is a product of our community," said Debbie Jaillette, executive director of the LCCA. "This park epitomizes the use of the tagline 'Forward Together,' a statement our community has been using for decades to describe how important it is that we all work together to create beautiful spaces for all people."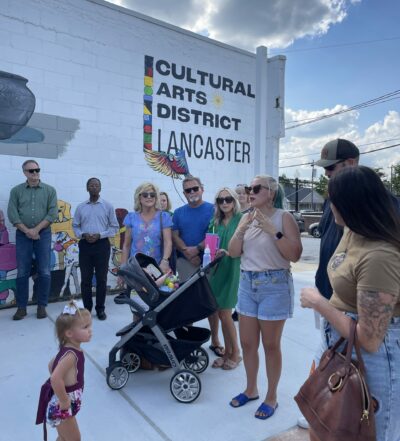 Local artist Sydney Hinson-Bucca, center, discusses the Rose Globe she made as a focal artwork for the downtown park.
The new park is situated in downtown Lancaster's Cultural Arts District. Along with its namesake murals designed by Russ Petty, it also boasts a metalwork "Rose Globe" sculpture by local artist Sydney Hinson-Bucca and a raw-edge bench sculpture made by Bruce Sowell and students at the Lancaster County Career Center.
"Arras is pleased to have provided the funding for this beautiful space, designed with care to showcase the talents of our community," said Lisa Bridges, chair of the Arras Foundation Board of Trustees. "We join all the 'Forward Together' partners in thanking the talented craftsmen who made the space what you see today."
Mural Court, open to all, will be the site of the LCCA's Food Truck Fridays as they return in the coming months.
This article was first published in The Lancaster News.