by Lancaster County Council of the Arts and Arras Foundation
Published October 17, 2022 first by The Lancaster News

Plans for a new public park in downtown Lancaster were unveiled this week.
Mural Court will provide residents with a beautiful spot to gather, sit, have lunch and admire local art.
The groundbreaking ceremony for Mural Court, on Dunlap Street across from the Historic Courthouse, was held Monday, Oct. 17.
The park project is a partnership between Lancaster County Council of the Arts (LCCA) and the Arras Foundation, using community input from Lancaster's Downtown Revitalization Plan, passed by Lancaster City Council in March 2020. Arras is funding the $250,000 project.
"The vision for the park comes from the people of our community and represents another spark in the continued revitalization of our beautiful, historic downtown," said Debbie Jaillette, LCCA executive director.
"As with any creative placemaking initiative, months and often years go into planning for large-scale projects. We are all thrilled to stand together at the start of construction this month."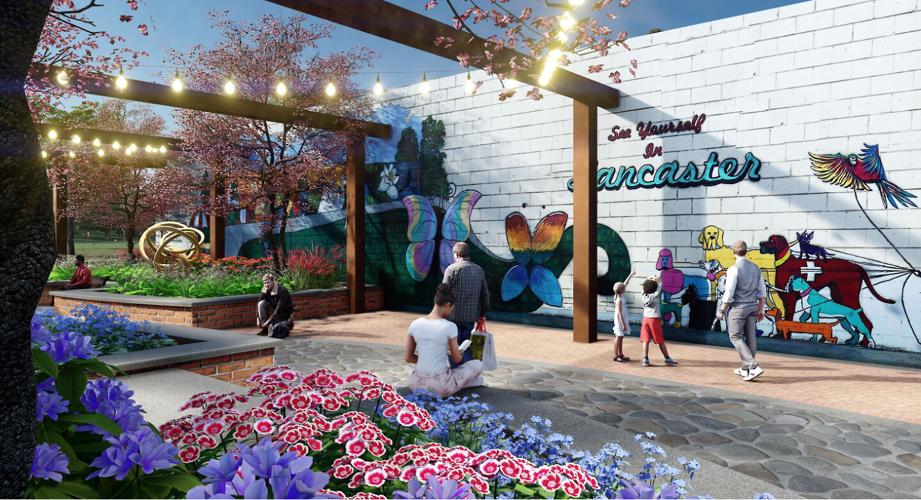 This artist's rendering depicts Mural Court, a new pocket park to be built between the Dunlap Street murals across from the Historic Courthouse.
Local voices inspire park
In 2019, under the leadership of the city of Lancaster, an external consulting firm (MKSK) and the Arras Foundation built a community engagement strategy to gather ideas from residents about what they hoped to see downtown. The goal was simple — get as much input as possible from individuals who live, work and play in Lancaster.
Lancaster residents took surveys while sitting in downtown restaurants, at local festivals, in the comfort of their own homes. Nineteen Downtown Revitalization Poster Sessions, hosted by the foundation's summer interns, were held in churches, community centers, local businesses, health centers and at civic clubs, so residents could share ideas for what they wanted to see in downtown Lancaster.
Nearly 2,000 individuals provided ideas, which were then consolidated into themes by the interns and consultants. Community feedback from these sessions included the desire for more focus on arts and history, family-friendly gathering spaces, better curb appeal, the addition of flowers and green space, among others.

Community input from over 1,800 residents inspired Mural Court. Here, local residents take part in a downtown revitalization input session during the summer of 2019.
Mural Court will provide all of these amenities, with a bench, wall seating, a small stage area, overhead lighting and flowering plants and trees.
"Our foundation was honored to help ensure that all voices were heard in the downtown revitalization planning process. Despite the pandemic, many partners have been hard at work in recent years to continue to use this important public input as we build our great community," said Susan DeVenny, president/CEO of the Arras Foundation.
"We are happy to be a partner at Mural Court, ensuring Arts Council leaders have the support they need to complete the placemaking vision in that special space."
Pocket parks an urban trend
Since 2016, the Arras Foundation has hosted a variety of "see the possible" visits to other developing cities, towns and regions.
"Part of building a healthy community means you are always looking at what others are doing to attract and retain families," DeVenny said.
Visiting Hartsville, Rock Hill, Florence, Greenville, Columbia and Spartanburg in South Carolina, as well as Danville and Warrenton, Va.; Waxhaw and Rocky Mount, N.C.; and LaGrange, Ga., one trend was present in every city — "pocket parks," she said.
Quirky, lighted walkways between streets or buildings, alongside fountains or parking decks, these small and carefully designed spaces that celebrate art, encourage gathering, walking, playing and enjoying place are not new to Lancaster.
Mural Court joins two other pocket parks on Lancaster's Main Street.
The city of Lancaster's Red Rose Park is just across a parking lot from Mural Court, directly opposite the Native American Studies Center on Main Street. The corner of Main and Arch streets is home to Sculpture Park, located under "The Spirit of Lancaster" mural.
"The opportunity to design the city of Lancaster's next pocket park was a great honor for our design-build partners," said Chad Catledge, president of Perception Builders, which will build the park. "Lancaster is growing, and businesses are thriving here. We are thrilled to be building spaces like Mural Court for our current and future families."
Local resident Robert Folks agrees.
"It is exciting to see such energy and activity downtown. With the reopening of our Lindsay Pettus Greenway, the expanded Cultural Arts Center and updated downtown library, Lancaster has not missed a beat during COVID," said Folks, downtown businessman and trustee emeritus for the Arras Foundation. "We continue to be proud of the past and future opportunities of doing business downtown. Seeing a new pocket park open at the city center is another win."
Public art for all to enjoy
Arts and a thriving creative sector have been longtime strengths of our community.
Murals and mosaics from the 1970s still cover prominent walls on Main Street, and the largest collection of Catawba pottery in the United States is featured in USCL's Native American Studies Center.
Nationally renowned metal sculptor, Bob Doster, can be found teaching and creating metalwork masterpieces in his studio on Gay Street.
Christina Chastain's studio (Chastain's Loft on Main Street) features work by local artists and is home to classes and artisan creative space throughout the year.
Culinary art can also be found on Main Street at the new Southern Dish 101, where Chef Vershawn Gray both teaches and serves premiere culinary treats.
The newly reopened Cultural Arts Center on Gay Street, once home to Gen. William Sherman's horses, is managed expertly by the Lancaster County Society for Historical Preservation, and provides rich, cultural experiences several times per month for residents and visitors to Lancaster.
The Lancaster County Council of the Arts, our county's arts hub, joins in celebrating all artists and promoting arts for everyone, with classes, camps and regular programming open to the public year-round. The LCCA is headquartered on Gay Street, with student murals on display outside on the large canvas cube display at the corner of Gay and Catawba streets.
Displaying the public's creative energies is part of the organization's mission. The LCCA's most recent public art projects include the Dunlap murals painted by the community during July 2019, the Lindsay Pettus Greenway murals and the "Paws on Parade" project, which places locally hand-painted dog and cat sculptures in prominent locations across the county.
The LCCA focus on public art and creative placemaking positions the organization to lead the development and future programming at Mural Court.
"Our mission at Council of the Arts is to enrich the quality of life by building vibrant and inclusive communities connecting arts, culture, education and economic vitality," said Eric Grace, LCCA program director. "Mural Court is in line with that goal, giving our community members a place to connect with art and with one another."
Mural Court's central art piece will be a unique metal sculpture that incorporates elements of roses, the city emblem.
Local sculptor Sydney Hinson-Bucca will design and produce the sculpture. Hinson-Bucca who grew up in Kershaw, taught art in the Lancaster County School District for eight years. She is now a full-time studio artist representing younger talent in the community.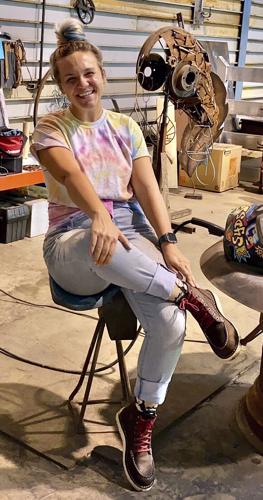 Local sculptor Sydney Hinson-Bucca will design and produce Mural Court's central art piece, which will include stylized rose elements.
"We are thrilled to feature a large, one-of-a-kind sculpture by Sydney as the centerpiece of the new art for the Mural Court space," said LCCA Board Chair Patricia Clancy. "You will see the new stylized roses that represent our Red Rose City, with light featured prominently to complement the modern drop lights in the new park."
Construction will begin later this month and the park is expected to be complete and available for public use in early 2023.
"The gathering space at Mural Court is meant to be a place for all to enjoy, with people as the focus," said Jodie Plyler, chair of the Arras Foundation board.
"With art created by the community, and the park inspired by the community, Arras is proud to be a partner in the Mural Court project representing all the great things happening in Lancaster."
This article was first published in The Lancaster News.