Press Release
March 22, 2021
Media Contact
Macy Whitener
Recipients awarded for collaborative and innovative efforts among K-12 Teachers
LANCASTER, S.C. – Ten educators were awarded Horizon Education Grants by the Arras Foundation in March 2021, during the Spring award cycle. Horizon awards are designed to help foster innovative teaching and learning in Lancaster County, Great Falls, Lewisville public schools and at the University of South Carolina at Lancaster. For the 2020-2021 school year, 21 educators have been recognized across the region.  
"We are so impressed with the thoughtfulness and creativity of the educators in our area," said Vivian Gray, Arras Trustee and Horizon Committee advisor. "During these uncertain times, they have demonstrated their commitment to students and the importance of innovative and adaptive learning. I am delighted to honor these recipients and to celebrate the future successes of these projects."
Established in 2017 as a cornerstone of Arras Foundation grantmaking to promote a healthy community, Horizon Education grants support innovative teaching and learning projects which build the skills and characteristics found in the "Profile of a SC Graduate." In addition, grant awards are designed to promote collaboration between educators, and to support meaningful connections between teachers, students, families, and the community. 
Teachers can apply for two Horizon Education grants each year, one classroom grant of up to $500 and one multi-educator grant of up to $2,000. Awards are made by youth philanthropy volunteers.
The Spring 2021 Horizon Education Grant recipients include: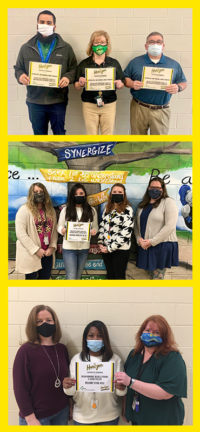 Antonio Artis, Abby Brunson, Robbie Yarbrough

/ Great Falls High School & Lewisville High School, Chester County School District /Grade 12/ Project Title: "The Next Steps with Holly Hayes: Empowering Students to Move Ahead After an Unusual Senior Year"
Marian Berks, Anna Evers, Katherine Hopper

,

Rebekah White

/ North Elementary, Lancaster County School District / Grades K-5 / Project Title: "Learning Power ON-THE-GO" 
Susan Hammond, Michelle Perkins, LaShae Wallace

/ Andrew Jackson Middle School, Lancaster County School District / Grades 6-8 / Project Title: "Welcome to Vol-Ville"
"It's incredible to see the resilience of teachers in our communities," said Savannah Robinson, senior at Lancaster High School & returning member of the Horizon Youth Review Committee. "As a member of the Youth Review Committee, I have the opportunity to read about proposals that cover topics ranging from English to Speakers of Other Languages (or ESOL) to student mental health. I am very excited to celebrate these 10 educators."
All Horizon Education Grant applications are reviewed and approved by the Horizon Education Youth Review Committee, comprised of students selected from USC Lancaster, Lancaster County high schools, Great Falls High School, and Lewisville High School. The Youth Review Committee gives students an opportunity to get involved in community activities, explore the world of philanthropy, and support leadership and innovation in education.
For more information about the Horizon Education Grant, please visit: www.arrasfoundation.org/horizon-education-grant or contact Arras Foundation Youth Development Coordinator, Elizabeth Howe.
—
Arras Foundation
Dedicated to the health and wellness of all residents of Lancaster County, Fort Lawn, and Great Falls, SC for 25 years, the Foundation joins with partners to work together so that all people can thrive. www.arrasfoundation.org