KERSHAW — Nearly 100 community members, elected officials, and state leaders gathered Thursday afternoon, May 25, to celebrate the opening of a new early childhood education center in downtown Kershaw.
On Hampton Street, across from Kershaw Town Hall, the old Bank of Kershaw has been transformed into the Clyburn Early Childhood Center — a three-classroom facility that will open to families next week. Lancaster County First Steps will offer free 4-year-old kindergarten at the center to families in Kershaw and surrounding areas.
The full-day program is part of South Carolina's state-funded Child Early Reading Development and Education Program.
"Today, we end the childcare desert in Kershaw," said Martha Strickland, 4K state director for S.C. First Steps.
The new education center, the only licensed childcare facility in Kershaw, will be able to host 60 students, with the opportunity to expand services to 3-year-old children in the future.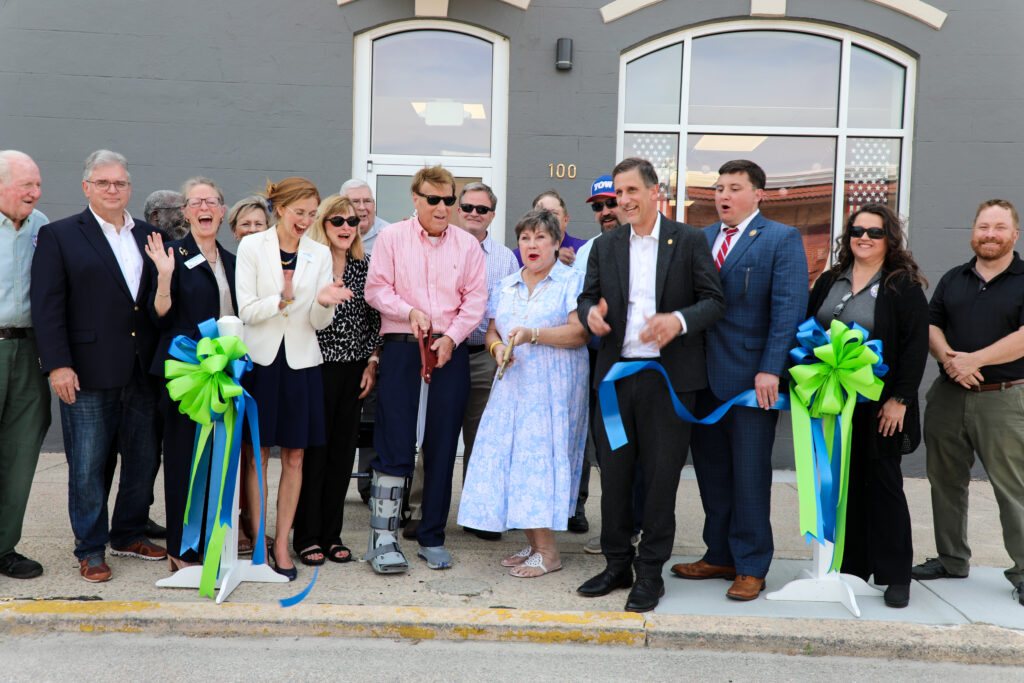 Participants react to the ribbon-cutting at the opening ceremony for the Clyburn Early Childhood Center in Kershaw on Thursday, May 25. The center will offer free, full-day pre-kindergarten for 4-year-olds.
Plans for this facility began in 2019, when William R. Clyburn, son of Bill and Joan Clyburn, contacted former S.C. Sen. Vincent Sheheen with hopes of repurposing the dilapidated bank building, a two-story 10,000-square-foot structure built in 1910. Kershaw Mayor Mark Dorman and former town administrator Mitch Lucas quickly became involved in creating a vision for the Clyburn Early Childhood Center.
"The use of the old building is a creative and innovative way to revitalize the downtown area, while also providing a much-needed service to the community and surrounding areas," Dorman said.
"Our young children matter! I am so very proud that our families now have the opportunity to send their children to a high-quality, curriculum-based classroom right here in our community. Kershaw is an amazing place to raise a child," Sheheen said.
"[Kershaw] is a community that loves children and that's investing in our youngest citizens," said Georgia Mjartan, executive director of S.C. First Steps. "This center will provide relief to the public pre-K programs that are currently full."
Before now, the 2,250 residents of Kershaw did not have access to licensed child-care providers in the town or surrounding areas.
Close to $1.5M has been invested in the town of Kershaw with the construction and completion of the center.
The center was made possible by public-private partnership. Initial state funds were provided by the South Carolina General Assembly. Additional funding was provided by the town of Kershaw, the Arras Foundation, Springs Close Foundation and OceanaGold, as well as many other private individuals or organizations.
"The opening of the Clyburn Early Childhood Center shows what can happen when partnerships are formed and everyone works for the betterment of the community," Dorman said.
Registration for the Clyburn Early Childhood Center is now open. Visit FREE4KSC.ORG for more information on how to register.
This article was first published in The Lancaster News.