LANCASTER — A collaborative effort will preserve about 600 acres on the Catawba River in the Van Wyck area. It is also the first step toward establishing a new state park here honoring the Catawba Nation, and protecting its clay pits.
Announced Monday, July 17, it is an about-face for the property, known as the Nisbet Tract, which was previously proposed for a 1,000-home development.
The Nisbet Family, which owns the land, now seeks a conservation and public recreation outcome for the tract, which includes a mile of river frontage in the heart of the Catawba Nation's ancestral lands. The rolling property harbors mature piedmont hardwood and floodplain forests, a host of wildlife species and a 5-acre pond.
The partnership, which includes the Nisbet Family, Catawba Nation, S.C. Department of Parks, Recreation & Tourism (SCPRT), Open Space Institute (OSI) and others, has coalesced to acquire, protect and create a plan for the property's public use and enjoyment.
The Nisbets entered into a purchase option agreement with OSI, a leading land conservation organization that specializes in public use. Once secured, the property would contribute to a growing network of protected lands and provide publicly accessible open space, outdoor recreation opportunities, and clean air and water.
"Our family has owned the property for over 100 years. Our father, William Oliver Nisbet, believed in family, fellowship and community involvement," said Caroline Nisbet Hewett. "We are proud and truly honored for the opportunity to continue Oliver Nisbet's legacy by preserving this property for the use and enjoyment of generations to come. We are thankful to Open Space Institute for their assistance to help turn the land into a community space."
Catawba clay pits
Formerly part of the Catawba Nation's vast 144,000-acre territory, the Nisbet Tract includes a singular active clay vein of Catawba clay regarded as a sacred living resource by the Nation. This clay is the lifeblood of the Catawba Nation and has been used continuously by the Catawba people to make their namesake pottery and sustain their community for more than 6,000 years.
During the Great Depression, Catawba women made and sold pottery to help Catawba people survive. In modern times, Catawba pottery has become a well-regarded form of Native American art with pieces made from this clay featured in art museums throughout the world.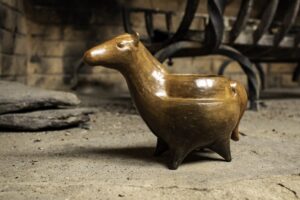 Catawba pottery can be found in museums around the world. Photo courtesy of the Catawba Nation.
"Catawba citizens have been creating functional and artistic vessels from the clay holes on the Nisbet Tract for over a century. The Nation acknowledges the Nisbet family's long friendship in allowing citizens access to the clay to safeguard this important cultural practice," said Chief Bill Harris. "We also thank OSI and SCPRT for their commitment to partnering with the Catawba Nation to preserve and protect all Catawba cultural resources on the Nisbet Tract and ensure Catawba citizens access to the clay holes in perpetuity."
A focus of the partnership is to ensure that the Nation has perpetual access to and co-management of the Nisbet clay pit. A 151-acre conservation easement placed on the property by the Nisbet family and held by the Katawba Valley Land Trust (KVLT) includes the clay pits and the riverfront that provides additional protection to the property's ecological and cultural resources.
State park
"South Carolina State Parks is entrusted with protecting and sharing some of the most treasured natural and cultural resources in the Palmetto State," said Duane Parrish, director of SCPRT.
"With the Catawba Nation's engagement and support, we envision creating a state park in Lancaster County that weaves together the park service values of stewardship and service with the preservation and celebration of the Catawba's cultural connections to the land and river.
"We are honored for the opportunity to share the Catawba's history and culture with generations of visitors, and we look forward to expanding public access to outdoor recreation in one of the state's fastest-growing regions," Parrish said.
"OSI's distinctive role in this exciting partnership is to coordinate partners, secure funding and acquire and steward the property until it is appropriate to transfer into public ownership," said Dr. Maria Whitehead, OSI vice president and Southeast director of land. "It's a privilege to work toward a collective vision that protects the incredible natural and cultural resources and honors the people that have loved and been sustained by this land."
OSI is also seeking funding from the S.C. Conservation Bank and foundation and corporate partners. The Knobloch Family Foundation, Lancaster County, Duke Energy and Arras Foundation have committed funding support. OSI intends to buy the property by the end of 2023, and will hold title to the property until the state is prepared to accept the land as a donation.
"The Arras Foundation is proud to join the public-private partnership dedicated to preserving this important open space for current and future generations. Building a healthy community includes the protection of key land, watersheds and historic space," said Arras Chair Lisa Bridges. "In the case of this new S.C. state park collaboration, Arras is proud to support the continued cultural traditions of the Catawba happening on the site, while preserving 600 acres for passive recreation all can enjoy."
"KVLT was created to protect the natural resources, cultural resources, open lands, waters and vistas of aesthetic value in the Catawba River Valley," said Dr. Michelle Evans, KVLT executive director. "This property showcases all of these important values and KVLT is committed to our role of ensuring these values are stewarded in perpetuity in partnership with South Carolina State Parks."
The Catawba Nation is a federally recognized native Nation with trust lands in North and South Carolina. The Nation's government headquarters is located in Rock Hill. The Nation has existed on its aboriginal lands in the Piedmont area of North and South Carolina and Virginia, along the banks of the Catawba River, since time immemorial with artifacts dating back at least 6,000 years. To learn more about the history, culture and current government services of the Catawba Nation, visit catawba.com.
About South Carolina State Parks
South Carolina State Parks is responsible for managing and protecting thousands of acres of natural, cultural and recreational resources, ranging from deep mountain wilderness and old-growth forests to battlefields, waterfronts, and wetlands. Today, the state park system includes 47 operational parks and six historic properties, offering thousands of campsites, two 18-hole golf courses, two saltwater fishing piers, lakes, ponds, and hundreds of miles of hiking and riding trails. Additional parks will be opening in the near future. Find photos, maps and information about each park, and stay up-to-date on future park openings, at southcarolinaparks.com.
About the Open Space Institute
The Open Space Institute protects scenic, natural and historic landscapes to provide public enjoyment, conserve habitat and working lands, and sustain communities. Founded in 1974 to protect significant landscapes in New York State, OSI has been a partner in the protection of nearly 2.3 million acres in North America, including more than 50,000 acres in South Carolina. Visit OSI Southeast online at openspaceinstitute.org/southeast.
This article was first published in The Lancaster News under headline "County to get new state park."